Portfolio
Accessibility developer skills and experience can be viewed under Presentations, Demos, and Bookmarklets.
iPhone and iPad apps I've made can be found under Apps.
Two websites I built for the Accessibility Internet Rally Competition are below.
Blue Mist Band - First Place Winner, Knowbility's AIR-Interactive Accessibility Internet Rally Competition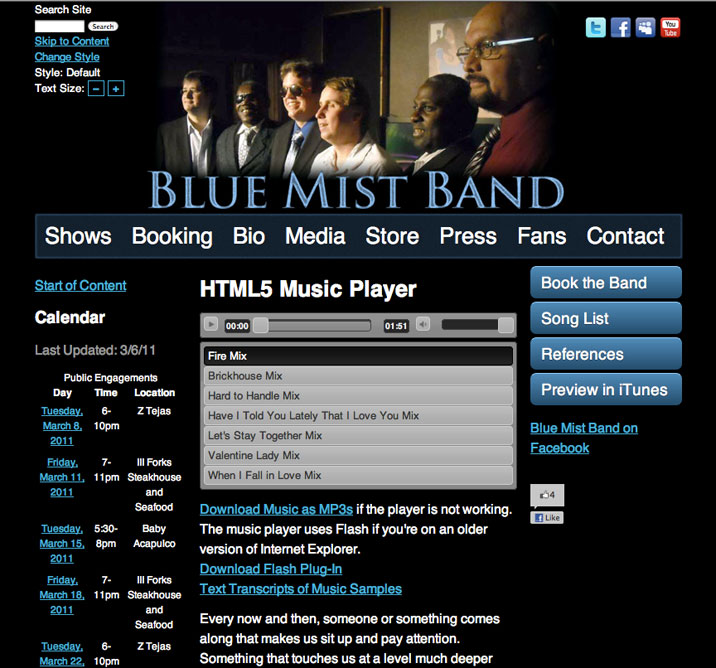 The live site is at http://bluemistband.com and is updated by the band directly editing the code as there was no CMS development.
1st place winner in Knowbility's AIR-Interactive (Accessibility Internet Rally) competition at South by Southwest (SXSW) Interactive 2011.
Objectives were to create a web site for a nonprofit arts group, an artist, or a musician. Blue Mist Band, an all blind band in Austin, was the perfect client for the accessible design competition.
Technologies:
HTML5
CSS
Web Accessibility
Accessible PDF
Photoshop
JavaScript/ARIA
PHP
Keyboard Accessible Audio Player
Accessible CAPTCHA Contact Form
Mobile Accessibility
Cross-Platform and Cross-Browser Assistive Technology Compatibility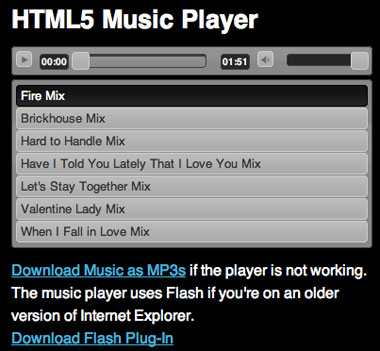 Key features are a keyboard accessible HTML5 music player, contact form with accessible CAPTCHA, accessible social media integration, text resizing capabilities, alternative style sheets, and text transcripts of music samples.
The site was designed to work with assistive technologies on multiple platforms and browsers including Internet Explorer and Firefox on Windows, Safari on Mac, and Mobile Safari on iPhone and iPad.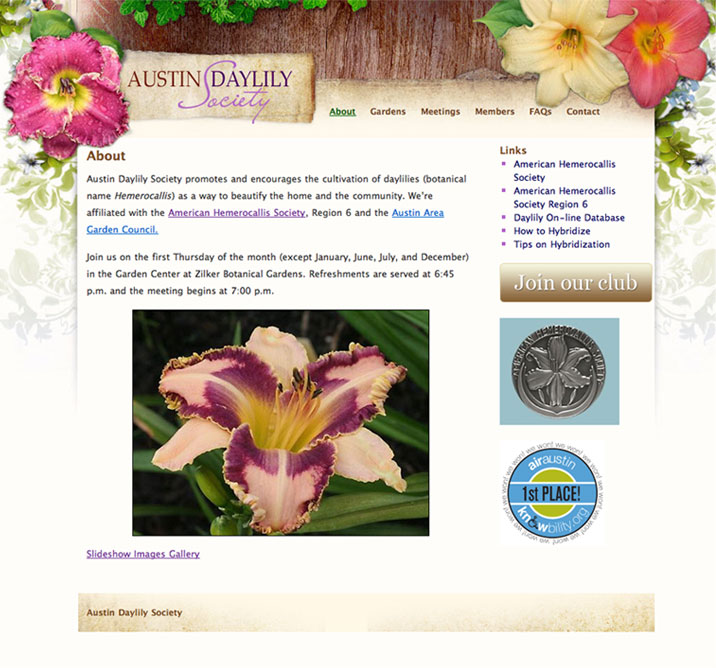 Austin Daylilly Society - First Place Winner, Knowbility's Accessibility Internet Rally Competition
Winner of AIR-Austin Formula One, 2010. Accessible Wordpress customization completed with a team of two others in an eight hour competition for an Austin non-profit. The annual competition is sponsored by the accessibility organization, Knowbility.
Technologies:
XHTML
CSS
Web Accessibility
Accessible PDF Forms
Photoshop
JavaScript
PHP
WordPress
Google Calendar